How My Summer Internship at the YWCA is Making a Difference
"What you do makes a difference, and you have to decide what kind of difference you want to make." – Dr. Jane Goodall.
I have carried these words since I stumbled upon them during my senior year of high school. These words were my senior quote in the Barker (yearbook), the motivation behind every initiative I have spearheaded, and the reason why I chose the YWCA as the place where I would complete my first summer internship.
Before we get into too many details about my internship — what it entails, why I chose the Y, and how this experience is preparing me for my future — it only seems right if I tell you a little bit about myself!
Get to Know M.E.
My name is Madeline Emerson, but everyone calls me Maddie! I am 19 years old, and I have lived in Bradford my whole life until I went to college this past year.
I graduated Summa Cum Laude from Bradford Area High School in 2022, and the opportunities BAHS gave me have set me up for great success.
I currently attend Gannon University in Erie, PA. I am double-majoring in Digital Media and Advertising Communications. I am also minoring in Innovation and Creativity — one of the coolest minors, in my opinion!
During the summer of 2021, I was crowned Miss Bradford and competed for Miss McKean County Fair Queen. This was one of the most incredible learning experiences I have ever had, as I learned all about the community of McKean County, and I ventured out of my comfort zone to represent Bradford to the best of my abilities.
I worked with the BAHS faculty and student body in high school to create the Be Kind to Your Mind mental health club. This endeavor allowed me to understand individuals' daily struggles better, and I discovered my passion for mental health advocacy.
At Gannon, I am the president of our chapter of Active Minds (a national organization that promotes mental health awareness and education in young adults). When I got to college, I knew I wanted to continue spreading mental health awareness, and this club was the perfect fit for me. I became president during my first semester, and this role gave me the opportunity to meet new people and discover new ways to support the students at Gannon.
In addition to Active Minds, I am the president and co-founder of The Ad-Comm and PR Club, the social media manager for 90.5 WERG (our on-campus, nationally-recognized radio station), and the Events Chair for Gamma Sigma Sigma (Gannon's service sorority). I believe that the more organizations you are involved with and the busier you are, the more fulfilling your college experience will be. From the new relationships I have created to the valuable skills I have gained, these organizations have shaped my college career path. I could go on and on about my love for Gannon and extracurricular activities, but I will save that for another day!
When I was deciding what I wanted to do for the summer after my freshman year, I was torn. Last summer, I worked at a summer camp and loved every minute, but I wanted to find a summer job that better correlated with my career path. I liked the idea of an internship, but because I had just finished my freshman year, I knew it was unlikely that an advertising agency would accept me. However, a non-profit organization was not out of the question; I knew just the perfect one.


Why the Y
Before we move on from the "Get to Know M.E." section, I would like to share one last fun fact: I was one of the YWCA's Rising Leaders in 2022. It was an honor to be recognized by the YWCA and the community, and this award has motivated me to continue making a difference. This honor inspired me to learn more about the YWCA's mission and ways I can support them and give back to the community.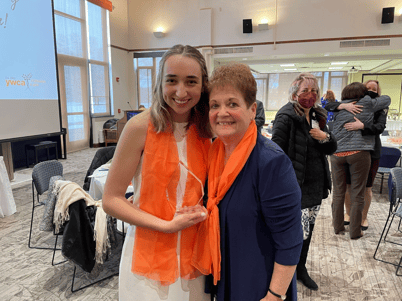 Prior to winning this award, I was a Student Ambassador for the United Way of the Bradford Area. In November 2019, I visited and learned about a few of the United Way's partners, including the YWCA. I found it fascinating getting to see these organizations and how their existence helps keep Bradford and McKean County afloat.
I remember taking a particular interest in the YWCA because I was amazed at everything they do. Between the services they offered and the welcoming, accepting atmosphere they provided, I immediately knew I wanted to find more ways to get involved.
But then, a global pandemic happened.
I used the information I had learned in November, and I found my own way to give back to the community during Covid-19, and so did the YWCA. I remember waking up one morning and looking out my window to see an army of pink flying pigs in my yard with a sign that said, "You've been flocked!" It was a small gesture the YWCA provided during such a challenging time, but it meant so much more to the community and has stuck with me ever since.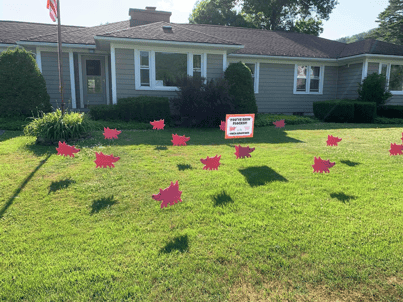 Flash forward three years, and I am figuring out where I could find an internship. I immediately thought of the YWCA when I realized I could help a nonprofit organization with its promotional efforts. I emailed them asking if they would be willing to take me in for the summer and allow me to be their Communications Intern. In typical YWCA fashion, they welcomed me in and created this internship. They are giving me first-hand experiences that I would not have been able to get anywhere else.
The mission of the YWCA is important to me, and I am honored to be assisting them to help promote their organization. An extensive amount of work goes on behind the scenes, and showcasing all aspects of a nonprofit is important. This summer, you will find me posting to the YWCA's social media (@ywcabradfordmck), publishing blog posts, connecting with the community, and more! I am beyond excited to spend my time learning about everything that has to do with promoting a nonprofit organization!
Make Your Difference
As the quote above says, what you do makes a difference, and you have to decide what kind of difference you want to make. The YWCA inspires me to go out in the community and find ways to make an impact— they are helping me decide the difference I will make. You too can make a difference within the community in many ways, and we encourage you to venture out and find ways to get involved. But if you're looking for a place to start, we are here to help!