YWCA to host 25th Annual Leader Luncheon at Pitt-Bradford
(Watch the 25th Annual Leader Luncheon here)
Empowering women is one of the core values of the YWCA.
To that end, the YWCA Bradford has honored nearly 65 McKean County women since 1998 during its annual Leader Luncheon. Each woman has demonstrated leadership qualities and has made a difference in the lives of others.
Now in its 25th year, The YWCA Bradford's 2023 Leadership Awards will recognize Tina Martin, executive director of CARE for Children; Sayge Bruno, senior at Bradford Area High School; and Faith Miller, senior at Smethport Area Junior-Senior High School.
The luncheon was held March 8, 2023, in the Mukaiyama University Room of the Frame-Westerberg Commons at the University of Pittsburgh at Bradford.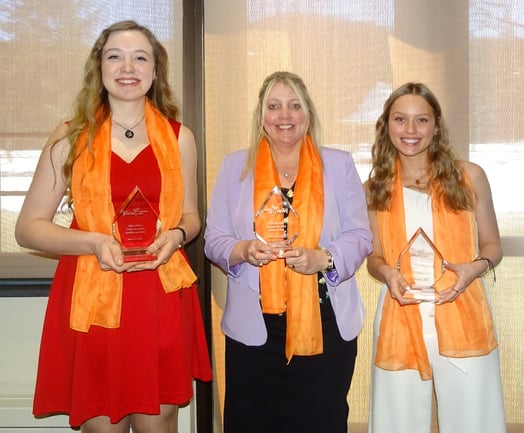 Tina Martin
was born in Buffalo, NY, and raised primarily in Bradford, PA. She graduated from Bradford Area High School and attended the Pennsylvania State University, University Park, PA, earning a Bachelor of Arts in Speech Communication with a focus on Rhetoric and Public Address.
Following her undergraduate studies, she relocated to Portland, OR, where she worked in marketing and visual merchandising. After returning to Bradford, she worked in Public Relations at the Bradford Area Public Library and as Director of Development for the Bradford Catholic School System. She has worked at CARE for Children for the past 21 years.
She began her career at CARE as the Community Relations Director and was tapped in 2006 to lead the organization as the Executive Director.
Tina has led the organization through the expansion of services and significant growth. She led a successful capital campaign and provided project management for the construction of the $2.2 million Ashley Booth Griffin CARE for Children Center and playground. Under her leadership, the organization has completed the Pennsylvania Association of Nonprofits (PANO) rigorous Standards for Excellence Re-Accreditation program four times.
With the support of the Board of Directors, her tenure at CARE has been the springboard to enable her to volunteer, mentor others and collaborate with several other organizations.
Tina has been a member of the Rotary Club of Bradford for 17 years. She served as Rotary Club President in 2021-2022 and has been a member of the Rotary Board since 2015, serving as the Community Service Chair. As chair, she works with the club on Operation Warm, which provides coats for children in need, annual fundraisers including the Rotary Golf Tournament, and other community projects like the Route 219 clean up, pediatric dental project, and supply drives for the YWCA. As a Rotarian, she volunteered monthly to serve at the Friendship Table and found it very rewarding.
In 2012 she received recognition as a Paul Harris Fellow, which is given to a Rotarian or community member for outstanding contributions to their community. In 2020, she received a Rotary District #7280 Award as a "Person of Action." This award honors a Rotarian who is making a difference in the world, either through Rotary or through their community or global service. Most recently, Martin was appointed by the City of Bradford to the Board of the Bradford City Water Authority, where she serves as assistant treasurer/assistant secretary.
Martin is the former chair and current member of PANO's Standards for Excellence Committee, which oversees the Standards program. Martin is a past chair and trustee of the Bradford Area Public Library, where she served for nine years. She received the Inaugural Excellence in Agency Representation Award from the Bradford Area United Way and is an ardent supporter of the annual campaign.
Martin is the daughter of the late James R. Martin and the late Nancy Borsa Martin Campbell. She is the very proud mother of one son, Christian Maximo Martin-Paterniti. She enjoys reading, traveling, snow skiing, hiking at Westline, following Penn State Sports, and boating and camping on Keuka Lake in the Finger Lakes.
Sayge Bruno
is a senior attending Bradford Area High School. Her parents are Crystal (Michael) Salada and Kenneth (Carrie) Bruno. She has two younger siblings, Kaine Salada and Kora Bruno.
Most of her time is devoted to her academics and events within her school district. Academically, Sayge has maintained over a 4.0 GPA, achieving Honor Roll of Distinction status all four years of high school. In her junior year, she was elected her class's Vice President and President of the Prom Committee. This year, Sayge was elected Student Council President with responsibilities that entail representing the student body at monthly School Board meetings and cross-communicating between peers and administration. Sayge is also a two-year member of both the National Honor Society and the National Technical Honor Society. She was recently asked to be the student representative on the Wellness Committee.
Some local volunteer opportunities Sayge has taken part in include selling tickets at the Italian Festival, providing help at GGB's annual Field Day, and volunteering at various charity events. In her free time, she enjoys organizing events, pottery, traveling, and being with friends and family. Sayge currently waitresses part-time at John Williams European Pastry Shop. She plans to attend postsecondary education to major in Economics with a minor in Real Estate.
"It is hard to overstate the meaningful contributions that Sayge has made to our school and surrounding community," said Jennifer Barnes, faculty advisor for the Bradford High School Student Council. "… I've had the pleasure of seeing Sayge make profound contributions both in and out of the school. Her school and community service are enhanced by the combination of her positive attitude, courage, and confidence. We all heard of someone lighting up the room with their personality, that someone is Sayge. She is confident, engaging, reliable, and passionate. These are rare attributes you would find in a high school student, but so essential to be a positive role model."
Faith Miller
is the daughter of Sandra and Lester Miller of Smethport. She attends school at Smethport Area Jr. Sr. High School and at Seneca Highlands Career and Technical Center.
At Smethport High School, she has a 4.0 GPA, was nominated as Miss Smethport for the McKean County Fair, is a member of the National Honors Society, attends the school's safety committee, and is actively engaged in Cross Country and Track and Field. At Seneca Highlands Career and Technical Center, she has been able to obtain her Certified Nursing Assistant License, has obtained her Stop the Bleed certification, CPR certification, OSHA 10-hour certification, and so much more. Also, Faith has been able to compete in SkillsUSA for 2 years and placed 3rd this year for Health Care Portfolio.
Faith is also very civic-minded by being a member of her karate class for 10 years, and is now a 3rd-degree black belt, has helped out Bright Alternatives, American Red Cross, Sena Kean Manor, and Hilltop Baptist Church. Through all of this, she has been able to accomplish her goal of being accepted into the Bachelor's program for a registered nurse at St. Bonaventure University where she will be attending in the Fall.
"As an educator and counselor for the last 30 years, I can honestly say that it is rare to find a student who not only excels in the classroom but also in her community the way Faith does," said Brian Lawson, a guidance counselor at Smethport Jr.-Sr. High School. "... Faith has left a positive impact on the Smethport School District that will be remembered for years to come. I am excited to see where her character and abilities take her in life."
"We received a number of outstanding nominations this year of women who have made an impact on our community through their service and leadership. It can be a challenge to select our honorees. We are delighted to honor the depth of service and leadership Tina has provided in so many ways to our community. We are also excited to honor Faith and Sayge, who have provided proven leadership in their schools and have served their communities in a variety of ways." – YWCA Bradford Board of Directors