Walk a Mile in Her Shoes Supports YWCA Victims' Resource Center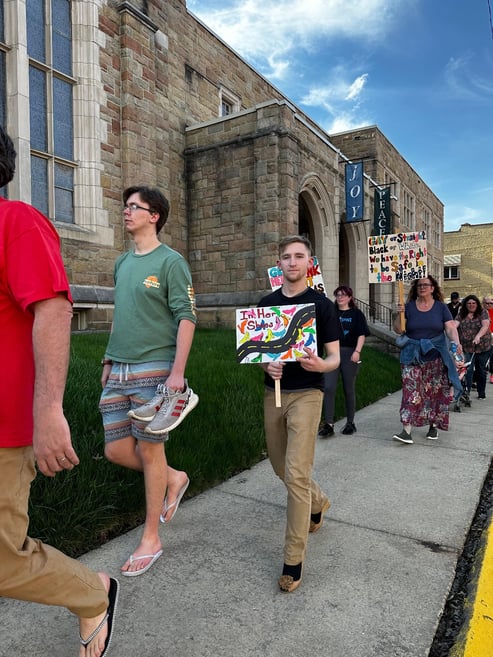 Another sexual assault happens once every 68 seconds in America.
As a community, we can't stand by without taking action.
That's why YWCA Bradford invited men all over McKean County to don high heels and join its Walk a Mile in Her Shoes campaign on April 20. The event was part of an international movement to stop rape, sexual assault, and gender violence and was held in conjunction with Sexual Assault Awareness Month.
The event included speeches from McKean County District Attorney Stephanie Vettenburg-Shaffer and Vanessa Castano, Executive Director of YWCA Bradford. City of Bradford Mayor Tom Riel read a proclamation announcing that April is Sexual Assault Awareness Month for the city.
An afterparty was hosted by Bradford Brew Station that included refreshments and a discussion about how we can all be a part of preventing sexual assault.
The event was not only a fun and entertaining way to raise awareness about sexual violence, but it also raised funds for the YWCA Bradford's Victims' Resource Center. The center provides trauma-informed, victim-centered, confidential, free domestic violence and sexual assault services.


About YWCA Bradford's Victims' Resource Center
More than 60 percent of women and nearly 25 percent of men have experienced some form of sexual violence. About half of transgender individuals experience sexual assault in their lifetime.

The Victims' Resource Center provides free services to help those experiencing sexual assault, including:
A 24-hour Hotline (1-888-822-6325)

Crisis Counseling

Emergency Shelter

Medical Advocacy and Accompaniment

Legal Advocacy & Accompaniment

Support Groups

Community and Prevention Education Programs

Transitional Housing and Outreach Services
Call to Action: YWCA Victims' Resource Center Hotline Number
YWCA Bradford hosts a crisis hotline 24/7 for those experiencing sexual assault or domestic violence. Cards and posters were distributed at the Walk a Mile event to be placed around McKean County. The cards and posters feature a QR code that brings up the hotline number on a mobile device. in crisis simply needs to scan the QR code and their calling app will pop up with the YWCA hotline number.
You can download the cards and posters here:
Poster size (8.5 x 11):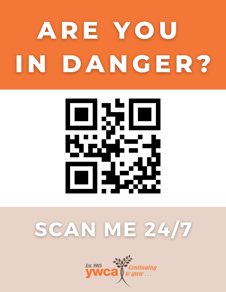 Business card size: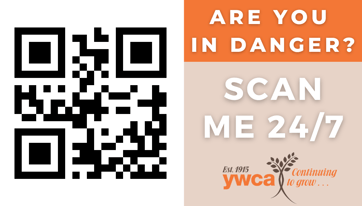 Are You Man Enough To Take the Men's Pledge?
At the Walk a Mile in Her Shoes event, YWCA Bradford encouraged men to sign the men's pledge, which reads:
I understand the value of women in positions of power and the decision-making process. I will not participate in or reproduce any action that attempts to exclude them from representation and power.
I will actively and publicly acknowledge gender biases, the harm they cause, and work to overcome them. This begins with the responsibility to understand them: what they look like, their cause, and how to correct them.
I will learn to identify men's sexualized violence and take action to stop it in order to maintain safe environments for everyone.
I will actively deconstruct patriarchy and toxic masculinity, knowing the harm they cause. This includes re/constructing and co/constructing who we are and how we relate. To encourage gender identities and healthy gender relations, I will:
Encourage nurturing masculinities that do not diminish the identities or roles of anyone.
Encourage masculinities that support a more ethical and healthy caring relationship with the earth and fellow living beings.
Want to sign the pledge? Fill out the form below.


Take the Men's Pledge



Walk a Mile in Her Shoes: Why High Heels?
You may have heard that old saying about not understanding a person's experience unless you've walked a mile in their shoes. The idea behind the event is to get men to step into the shoes of women who have experienced sexual violence and to raise awareness about the issue. By participating in the event, men demonstrate their support for women and survivors of sexual assault. Combining education, self-reflection, and fun, this event seeks to help men confront gender stereotypes and expectations in a disarming way.
Walk a Mile In Her Shoes began in 2001 and has become an award-winning international event. Events are often playful and fun while tackling a serious issue.
Walk a Mile in Her Shoes organizers say men walking in women's high heels helps to get communities talking about sex and gender biases, gender identity, gender relations, and men's sexual violence.
"We ask men to walk in women's high-heeled shoes to actively confront gender stereotypes and expectations," the official Walk a Mile in Her Shoes website says. "In this space of playful confrontation and openness, it's possible to reveal and consider many of the underlying causes of men's sexualized violence with less defensiveness and denial."
Help Stomp Out Sexual Assault! Donate to the Victims' Resource Center Today
Imagine experiencing sexual assault and not knowing where to turn. On top of the physical and emotional trauma, these many cases also involve navigating a complex legal system. For too many, this is an excruciating reality.
In those times of deep crisis, YWCA Bradford's Victims' Resource Center is there every step of the way, from providing shelter to those escaping violence to offering a supportive listening ear to ensuring survivors get the support they need.
Services are available to anyone, regardless of gender or age. No one deserves to be abused. Abuse is never the victim's fault.
Helps the Victims' Resource Center continue to provide support for people all over McKean County. Together, we can stomp out sexual violence.



(Photo credit: Ailaina M Saltsman)